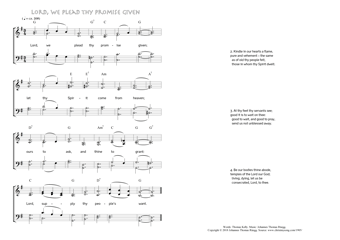 Christ My Song - 1905
Lord, we plead thy promise given
(Thomas Kelly/Johannes Thomas Rüegg)
Lord, we plead thy promise given.
"Your body is the temple of the Holy Ghost."
(1 Corinthians 6,19)
1. Lord, we plead thy promise given;
let thy Spirit come from heaven;
ours to ask, and thine to grant:
Lord, supply thy people's want. PDF - Midi
2. Kindle in our hearts a flame,
pure and vehement – the same
as of old thy people felt,
those in whom thy Spirit dwelt.
3. At thy feet thy servants see;
good it is to wait on thee:
good to wait, and good to pray,
send us not unblessed away.
4. Be our bodies thine abode,
temples of the Lord our God;
living, dying, let us be
consecrated, Lord, to thee.
Thomas Kelly, Hymns on various passages of Scripture, ca. 1853, Hymn 149.