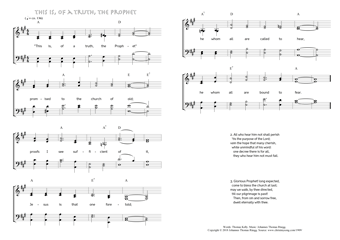 Christ My Song - 1909
This is, of a truth, the Prophet
(Thomas Kelly/Johannes Thomas Rüegg)
This is, of a truth, the Prophet.
"This is, of a truth, that Prophet which should come into the world." (John 6,14)
1. "This is, of a truth, the Prophet"
promised to the church of old;
proofs I see sufficient of it,
Jesus is that one foretold;
he whom all are called to hear,
he whom all are bound to fear. PDF - Midi
2. All who hear him not shall perish
'tis the purpose of the Lord;
vain the hope that many cherish,
while unmindful of his word:
one decree there is for all,
they who hear him not must fall.
3. Glorious Prophet! long expected,
come to bless the church at last;
may we walk, by thee directed,
till our pilgrimage is past!
Then, from sin and sorrow free,
dwell eternally with thee.
Thomas Kelly, Hymns on various passages of Scripture, ca. 1853, Hymn 127.