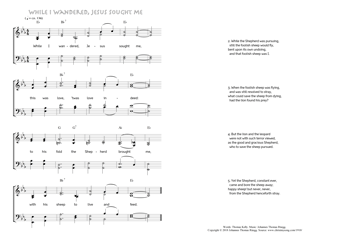 Christ My Song - 1910
While I wandered, Jesus sought me
(Thomas Kelly/Johannes Thomas Rüegg)
While I wandered, Jesus sought me.
"And when he hath found it, he layeth it on his shoulders, rejoicing." (Luke 15,5)
1. While I wandered, Jesus sought me,
this was love, 'twas love indeed:
to his fold the Shepherd brought me,
with his sheep to live and feed. PDF - Midi
2. While the Shepherd was pursuing,
still the foolish sheep would fly,
bent upon its own undoing,
and that foolish sheep was I.
3. When the foolish sheep was flying,
and was still resolved to stray,
what could save the sheep from dying,
had the lion found his prey?
4. But the lion and the leopard
were not with such terror viewed,
as the good and gracious Shepherd,
who to save the sheep pursued.
5. Yet the Shepherd, constant ever,
came and bore the sheep away;
happy sheep! but never, never,
from the Shepherd henceforth stray.
Thomas Kelly, Hymns on various passages of Scripture, ca. 1853, Hymn 131.