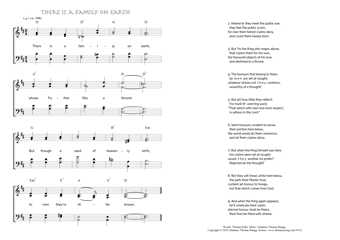 Christ My Song - 1912
There is a family on earth
(Thomas Kelly/Johannes Thomas Rüegg)
There is a family on earth.
"And ye shall be my sons and daughters,
saith the Lord Almighty." (2 Corinthians 6,18)
1. There is a family on earth,
whose Father fills a throne!
But though a seed of heavenly birth,
to men they're little known. PDF - Midi
2. Whene'er they meet the public eye,
they feel the public scorn;
for men their fairest claims deny,
and count them basely born.
3. But 'tis the King who reigns above,
that claims them for his own;
the favoured objects of his love,
and destined to a throne.
4. The honours that belong to them,
by men are set at nought;
whatever shines not they contemn,
unworthy of a thought!
5. But ah! how little they reflect!
For mark th' unerring word,
"That which with men has most respect,
is odious to the Lord."
6. Were honours, evident to sense,
their portion here below,
the world would do them reverence,
and all their claims allow.
7. But when the King himself was here,
his claims were set at nought:
would they another lot prefer?
Rejected be the thought!
8. No! they will tread, while here below,
the path their Master trod;
content all honour to forego,
but that which comes from God.
9. And when the King again appears,
he'll vindicate their claim;
eternal honour shall be theirs,
their foes be filled with shame.
Thomas Kelly, Hymns on various passages of Scripture, ca. 1853, Hymn 133.