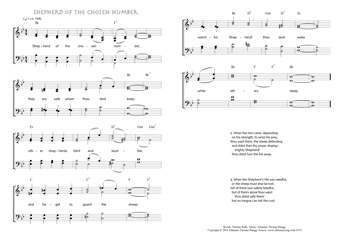 Christ My Song - 1913
Shepherd of the chosen number
(Thomas Kelly/Johannes Thomas Rüegg)
Shepherd of the chosen number.
"The good Shepherd giveth his life for the sheep."
(John 10,11)
1. Shepherd of the chosen number,
they are safe whom thou dost keep;
other shepherds faint and slumber,
and forget to guard the sheep:
watchful Shepherd!
thou dost wake while others sleep. PDF - Midi
2. When the lion came, depending
on his strength, to seize his prey,
thou wast there, the sheep defending,
and didst then thy power display:
mighty Shepherd!
thou didst turn the foe away.
3. When the Shepherd's life was needful,
or the sheep must else be lost,
not of thine own safety heedful,
but of theirs alone thou wast:
thou didst safe them!
but no tongue can tell the cost.
Thomas Kelly, Hymns on various passages of Scripture, ca. 1853, Hymn 130.