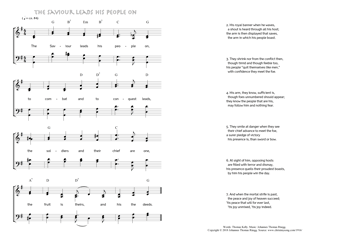 Christ My Song - 1916
The Saviour leads his people on
(Thomas Kelly/Johannes Thomas Rüegg)
The Saviour leads his people on.
"The Captain of their salvation." (Hebrews 2,10)
1. The Saviour leads his people on,
to combat and to conquest leads,
the soldier and their chief are one,
the fruit is theirs, and his the deeds. PDF - Midi
2. His royal banner when he waves,
a shout is heard through all his host;
the arm is then displayed that saves,
the arm in which his people boast.
3. They shrink nor from the conflict then,
though timid and though feeble too,
his people "quit themselves like men,"
with confidence they meet the foe.
4. His arm, they know, sufficient is,
though foes unnumbered should appear;
they know the people that are his,
may follow him and nothing fear.
5. They smile at danger when they see
their chief advance to meet the foe,
a surer pledge of victory
his presence is, than sword or bow.
6. At sight of him, opposing hosts
are filled with terror and dismay,
his presence quells their proudest boasts,
by him his people win the day.
7. And when the mortal strife is past,
the peace and joy of heaven succeed;
'tis peace that will for ever last,
'tis joy unmixed, 'tis joy indeed.
Thomas Kelly, Hymns on various passages of Scripture, ca. 1853, Hymn 258.