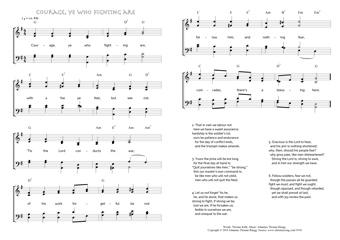 Christ My Song - 1918
Courage, ye who fighting are
(Thomas Kelly/Johannes Thomas Rüegg)
Courage, ye who fighting are.
"Be strong and of good courage." (Deuteronomy 31,6)
1. Courage, ye who fighting are,
with a foe ye feel, but see not.
'Tis the Lord conducts the war,
of his work forgetful be not:
follow him, and nothing fear,
comrades, there's a blessing here. PDF - Midi
2. That in vain we labour not.
here we have a sweet assurance;
hardship is the soldier's lot,
ours be patience and endurance:
for the day of conflict ends,
and the triumph makes amends.
3. Yours the prize will be ere long,
for the final day at hand is;
"Quit yourselves like men," "be strong,"
this our master's own command is;
be like men who will not yield,
men who will not quit the field.
4. Let us not forget 'tis he,
he, and he alone, that makes us
strong to fight, if strong we be;
lost we are, if he forsakes us;
feeble in ourselves we are,
and unequal to the war.
5. Gracious is the Lord to hear,
and his arm is nothing shortened;
why, then, should his people fear?
why grow pale, like men disheartened?
Strong the Lord is, strong to save,
and in him our strength we have.
6. Fellow-soldiers, fear we not,
though the passes all be guarded;
fight we must, and fight we ought,
though opposed, and though retarded,
yet we shall prevail at last,
and with joy review the past.
Thomas Kelly, Hymns on various passages of Scripture, ca. 1853, Hymn 257.