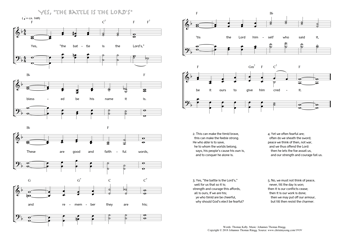 Christ My Song - 1919
Yes, "the battle is the Lord's"
(Thomas Kelly/Johannes Thomas Rüegg)
Yes, "the battle is the Lord's".
"For the battle is the Lord's." (1 Samuel 17,47)
1. Yes, "the battle is the Lord's,"
blessed be his name it is.
These are good and faithful words,
and remember they are his;
'tis the Lord himself who said it,
be it ours to give him credit. PDF - Midi
2. This can make the timid brave,
this can make the feeble strong.
He who able is to save,
he to whom the worlds belong,
says, his people's cause his own is,
and to conquer he alone is.
3. Yes, "the battle is the Lord's,"
well for us that so it is;
strength and courage this affords,
all is ours, if we are his;
ye who timid are be cheerful,
why should God's elect be fearful?
4. Yet we often fearful are;
often do we sheath the sword;
peace we think of then, not war,
and we thus offend the Lord:
then he lets the foe assail us,
and our strength and courage fail us.
5. No, we must not think of peace,
never, till the day is won;
then it is our conflicts cease;
then it is our work is done;
then we may put off our armour,
but till then resist the charmer.
Thomas Kelly, Hymns on various passages of Scripture, ca. 1853, Hymn 256.