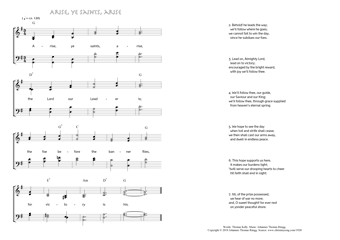 Christ My Song - 1920
Arise, ye saints, arise
(Thomas Kelly/Johannes Thomas Rüegg)
Arise, ye saints, arise.
"He teacheth my hands to war." (Psalm 18,34)
1. Arise, ye saints, arise,
the Lord our Leader is;
the foe before the banner flies,
for victory is his. PDF - Midi
2. Behold! he leads the way;
we'll follow where he goes;
we cannot fail to win the day,
since he subdues our foes.
3. Lead on, Almighty Lord,
lead on to victory;
encouraged by the bright reward,
with joy we'll follow thee.
4. We'll follow thee, our guide,
our Saviour and our King;
we'll follow thee, through grace supplied
from heaven's eternal spring.
5. We hope to see the day
when toil and strife shall cease;
we then shall cast our arms away,
and dwell in endless peace.
6. This hope supports us here,
it makes our burdens light;
'twill serve our drooping hearts to cheer
till faith shall end in sight:
7. till, of the prize possessed,
we hear of war no more;
and, O sweet thought! for ever rest
on yonder peaceful shore.
Thomas Kelly, Hymns on various passages of Scripture, ca. 1853, Hymn 253.