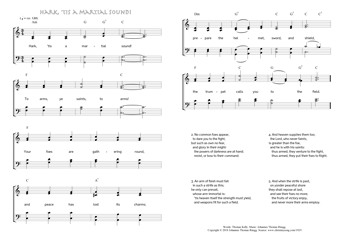 Christ My Song - 1925
Hark, 'tis a martial sound!
(Thomas Kelly/Johannes Thomas Rüegg)
Hark, 'tis a martial sound!
"For we wrestle not against flesh and blood,
but against principalities, against powers." (Ephesians 6,12)
1. Hark, 'tis a martial sound!
To arms, ye saints, to arms!
Your foes are gathering round,
and peace has lost its charms;
prepare the helmet, sword, and shield,
the trumpet calls you to the field. PDF - Midi
2. No common foes appear,
to dare you to the fight,
but such as own no fear,
and glory in their might:
the powers of darkness are at hand;
resist, or bow to their command.
3. An arm of flesh must fail
in such a strife as this;
he only can prevail,
whose arm immortal is:
'tis heaven itself the strength must yield,
and weapons fit for such a field.
4. And heaven supplies them too;
the Lord, who never faints,
is greater than the foe,
and he is with his saints:
thus armed, they venture to the fight,
thus armed, they put their foes to flight.
5. And when the strife is past,
on yonder peaceful shore
they shall repose at last,
and see their foes no more;
the fruits of victory enjoy,
and never more their arms employ.
Thomas Kelly, Hymns on various passages of Scripture, ca. 1853, Hymn 251.