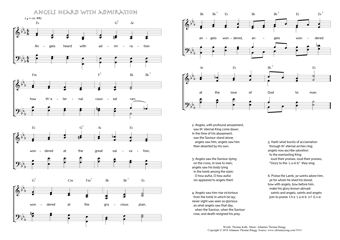 Christ My Song - 1931
Angels heard with admiration
(Thomas Kelly/Johannes Thomas Rüegg)
Angels heard with admiration.
"Which things the angels desire to look into." (1 Peter 1,12)
1. Angels heard with admiration
how th' eternal counsel ran;
wondered at the great salvation,
wondered at the gracious plan,
angels wondered, angels wondered
at the love of God to man. PDF - Midi
2. Angels, with profound amazement,
saw th' eternal King come down;
in the time of his abasement,
saw the Saviour stand alone;
angels saw him, angels saw him
then deserted by his own.
3. Angels saw the Saviour dying
on the cross, in love to men;
angels saw his body lying
in the tomb among the slain:
O how awful, O how awful
sin appeared to angels then!
4. Angels saw him rise victorious
from the tomb in which he lay;
never sight was seen so glorious
as what angels saw that day,
when the Saviour, when the Saviour
rose, and death resigned his prey.
5. Hark! what bursts of acclamation
through th' eternal arches ring;
angels now ascribe salvation
to the everlasting King:
loud their praises, loud their praises,
"Glory to the Lamb" they sing.
6. Praise the Lamb, ye saints adore him,
ye for whom he shed his blood;
bow with angels, bow before him,
make his glory known abroad:
saints and angels, saints and angels
join to praise the Lamb of God.
Thomas Kelly, Hymns on various passages of Scripture, ca. 1853, Hymn 245. Repetitions added.