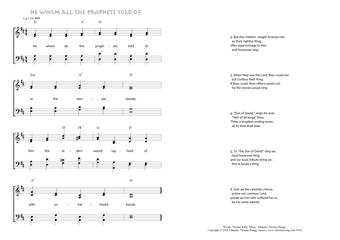 Christ My Song - 1934
He whom all the prophets told of
(Thomas Kelly/Johannes Thomas Rüegg)
He whom all the prophets told of.
"If these should hold their peace,
the stones would immediately cry out." (Luke 19,40)
1. He whom all the prophets told of,
in the temple stands;
him the elders would lay hold of,
with unhallowed hands. PDF - Midi
2. But the children, taught to know him
as their rightful King,
offer loyal homage to him,
and hosannas sing.
3. When they saw the Lord, they could not
but confess their King;
if they could, then others would not,
for the stones would sing.
4. "Son of David," reign for ever;
"Heir of all kings" thou.
Thine a kingdom ending never;
all to thee shall bow.
5. To "the Son of David" sing we;
loud hosannas sing;
and our loyal tribute bring we,
this is Israel's King.
6. Join we the celestial chorus,
praise our common Lord;
praise we him who suffered for us;
be his name adored.
Thomas Kelly, Hymns on various passages of Scripture, ca. 1853, Hymn 234.