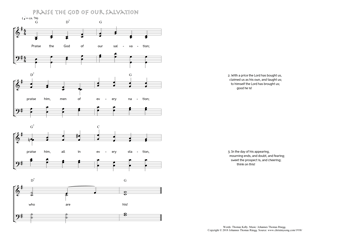 Christ My Song - 1938
Praise the God of our salvation
(Thomas Kelly/Johannes Thomas Rüegg)
Praise the God of our salvation.
"He that is our God is the God of salvation." (Psalm 68,20)
1. Praise the God of our salvation;
praise him, men of every nation;
praise him, all in every station,
who are his! PDF - Midi
2. With a price the Lord has bought us,
claimed us as his own, and taught us;
to himself the Lord has brought us;
good he is!
3. In the day of his appearing,
mourning ends, and doubt, and fearing;
sweet the prospect is, and cheering;
think on this!
Thomas Kelly, Hymns on various passages of Scripture, ca. 1853, Hymn 206.