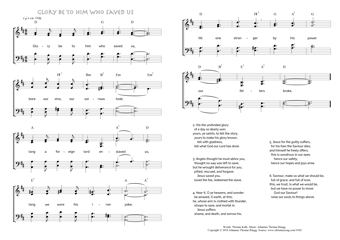 Christ My Song - 1942
Glory be to him who saved us
(Thomas Kelly/Johannes Thomas Rüegg)
Glory be to him who saved us.
"To him be glory." (Revelation 1,6)
1. Glory be to him who saved us,
bore our sins, our sorrows took;
long a foreign lord enslaved us,
long we wore his iron yoke;
till one stronger
by his power our fetters broke. PDF - Midi
2. His the undivided glory
of a day so dearly won;
yours, ye saints, to tell the story,
yours to make his glory known;
tell with gladness,
tell what God our Lord has done.
3. Angels thought he must abhor you,
thought no way was left to save;
but he wrought deliverance for you,
pitied, rescued, and forgave;
Jesus saved you,
loved the foe, redeemed the slave.
4. Hear it, O ye heavens, and wonder:
be amazed, O earth, at this;
he, whose arm is clothed with thunder,
stoops to save, and mortal is:
Jesus suffers;
shame, and death, and sorrow his.
5. Jesus for the guilty suffers,
for his foes the Saviour dies;
and himself he freely offers;
this is wondrous in our eyes:
hence our safety,
hence our hopes and joys arise.
6. Saviour, make us what we should be,
full of grace, and full of love;
this, we trust, is what we would be,
but we have no power to move:
God our Saviour!
raise our souls to things above.
Thomas Kelly, Hymns on various passages of Scripture, ca. 1853, Hymn 184.