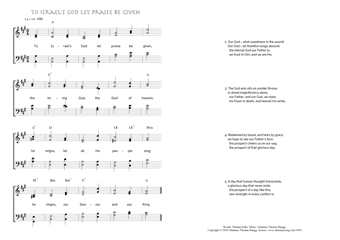 Christ My Song - 1943
To Israel's God let praise be given
(Thomas Kelly/Johannes Thomas Rüegg)
To Israel's God let praise be given.
"Let Israel rejoice in him that made him." (Psalm 149,2)
1. To Israel's God let praise be given,
the living God, the God of heaven;
he reigns, let all his people sing;
he reigns, our Saviour and our King. PDF - Midi
2. Our God – what sweetness in the sound!
Our God – let thankful songs abound:
the eternal God our Father is;
we trust in him, and we are his.
3. The God who sits on yonder throne,
in dread magnificence alone,
our Father, and our God, we style;
his frown is death, and heaven his smile.
4. Redeemed by blood, and heirs by grace,
we hope to see our Father's face;
the prospect cheers us on our way,
the prospect of that glorious day.
5. A day that human thought transcends,
a glorious day that never ends;
the prospect of a day like this,
new strength in every conflict is.
Thomas Kelly, Hymns on various passages of Scripture, ca. 1853, Hymn 187.