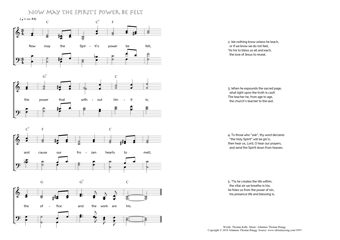 Christ My Song - 1947
Now may the Spirit's power be felt
(Thomas Kelly/Johannes Thomas Rüegg)
Now may the Spirit's power be felt.
"He shall receive of mine, and shall shew it unto you."
(John 16,14)
1. Now may the Spirit's power be felt,
the power that without limit is;
and cause our frozen hearts to melt,
the office and the work are his. PDF - Midi
2. We nothing know unless he teach,
or if we know we do not feel;
'tis his to bless us all and each,
the love of Jesus to reveal.
3. When he expounds the sacred page,
what light upon the truth is cast!
The teacher he, from age to age,
the church's teacher to the last.
4. To those who "ask", thy word declares
"the Holy Spirit" will be giv'n;
then hear us, Lord, O hear our prayers,
and send the Spirit down from heaven.
5. 'Tis he creates the life within,
the vital air we breathe is his;
he frees us from the power of sin,
his presence life and blessing is.
Thomas Kelly, Hymns on various passages of Scripture, ca. 1853, Hymn 160.