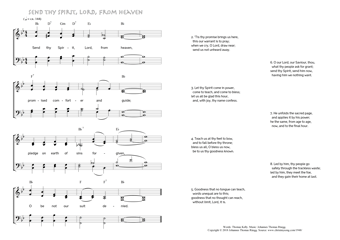 Christ My Song - 1948
Send thy Spirit, Lord, from heaven
(Thomas Kelly/Johannes Thomas Rüegg)
Send thy Spirit, Lord, from heaven.
"But if I depart, I will send him unto you." (John 16,7)
1. Send thy Spirit, Lord, from heaven,
promised comforter and guide;
pledge on earth of sins forgiven,
O be not our suit denied. PDF - Midi
2. 'Tis thy promise brings us here,
this our warrant is to pray;
when we cry, O Lord, draw near;
send us not unheard away.
3. Let thy Spirit come in power,
come to teach, and come to bless;
let us all be glad this hour,
and, with joy, thy name confess.
4. Teach us at thy feet to bow,
and to fall before thy throne;
bless us all, O bless us now,
be to us thy goodness known.
5. Goodness that no tongue can teach,
words unequal are to this;
goodness that no thought can reach,
without limit, Lord, it is.
6. O our Lord, our Saviour, thou,
what thy people ask for grant;
send thy Spirit, send him now,
having him we nothing want.
7. He unfolds the sacred page,
and applies it by his power;
he the same, from age to age,
now, and to the final hour.
8. Led by him, thy people go
safely through the trackless waste;
led by him, they meet the foe,
and they gain their home at last.
Thomas Kelly, Hymns on various passages of Scripture, ca. 1853, Hymn 161.