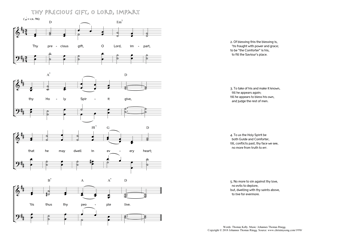 Christ My Song - 1950
Thy precious gift, O Lord, impart
(Thomas Kelly/Johannes Thomas Rüegg)
Thy precious gift, O Lord, impart.
"Whom the Father will send in my name." (John 14,26)
1. Thy precious gift, O Lord, impart,
thy Holy Spirit give,
that he may dwell in every heart;
'tis thus thy people live. PDF - Midi
2. Of blessing this the blessing is,
'tis fraught with power and grace;
to be "the Comforter" is his,
to fill the Saviour's place.
3. To take of his and make it known,
till he appears again;
till he appears to bless his own,
and judge the rest of men.
4. To us the Holy Spirit be
both Guide and Comforter,
till, conflicts past, thy face we see,
no more from truth to err.
5. No more to sin against thy love,
no evils to deplore,
but, dwelling with thy saints above,
to live for evermore.
Thomas Kelly, Hymns on various passages of Scripture, ca. 1853, Hymn 155.