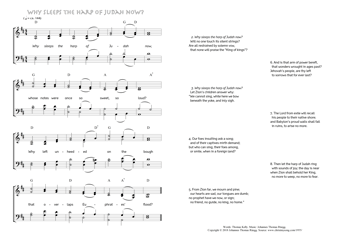 Christ My Song - 1955
Why sleeps the harp of Judah now?
(Thomas Kelly/Johannes Thomas Rüegg)
Why sleeps the harp of Judah now?
"The joy of our heart is ceased." (Lamentations 5,15)
1. Why sleeps the harp of Judah now,
whose notes were once so sweet, so loud?
Why left unheeded on the bough
that overlaps Euphrates' flood? PDF - Midi
2. Why sleeps the harp of Judah now?
Will no one touch its silent strings?
Are all restrained by solemn vow,
that none will praise the "King of kings"?
3. Why sleeps the harp of Judah now?
Let Zion's children answer why:
"We cannot sing, while here we bow
beneath the yoke, and inly sigh.
4. Our foes insulting ask a song;
and of their captives mirth demand;
but who can sing, their foes among,
or smile, when in a foreign land?
5. From Zion far, we mourn and pine;
our hearts are sad, our tongues are dumb;
no prophet have we now, or sign;
no friend, no guide, no king, no home."
6. And is that arm of power bereft,
that wonders wrought in ages past?
Jehovah's people, are thy left
to sorrows that for ever last?
7. The Lord from exile will recall
his people to their native shore;
and Babylon's proud walls shall fall
in ruins, to arise no more.
8. Then let the harp of Judah ring
with sounds of joy; the day is near
when Zion shall behold her King,
no more to weep, no more to fear.
Thomas Kelly, Hymns on various passages of Scripture, ca. 1853, Hymn 142.