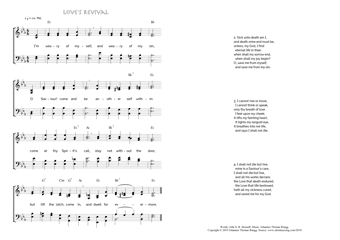 Christ My Song - 2034
I'm weary of myself - Love's Revival
(John S. B. Monsell/Johannes Thomas Rüegg)
Love's Revival.
Seventeenth Sunday after Trinity.
"Heal me, O Lord, and I shall be healed;
save me, and I shall be saved:
for thou art my praise." (Jeremiah 17,14)
1. I'm weary of myself,
and weary of my sin,
O Saviour! come and be
another self within:
come at thy Spirit's call,
stay not without the door,
but lift the latch, come in,
and dwell for evermore. PDF - Midi
2. Sick unto death am I,
and death mine end must be,
unless, my God, I find
eternal life in thee:
when shall my sorrow end,
when shall my joy begin?
O, save me from myself,
and save me from my sin.
3. I cannot rise or move,
I cannot think or speak,
only thy breath of love
I feel upon my cheek;
it lifts my fainting heart,
it lights my languid eye,
it breathes into me life,
and says I shall not die.
4. I shall not die but live,
mine is a Saviour's care,
I shall not die but live,
and all his works declare;
the Love that death endured,
the Love that life bestowed,
hath all my sickness cured,
and saved me for my God.
John S. B. Monsell, Hymns of Love and Praise, 1877, 98-99.
Hymn title from the index, page 172.