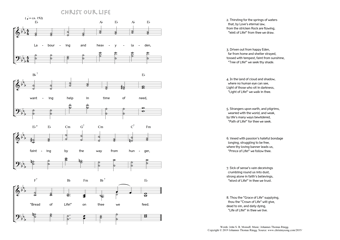 Christ My Song - 2035
Labouring and heavy-laden - Christ our Life
(John S. B. Monsell/Johannes Thomas Rüegg)
Christ our Life.
Sixteenth Sunday after Trinity.
"Christ, our life." (Colossians 3,4)
1. Labouring and heavy-laden,
wanting help in time of need,
fainting by the way from hunger,
"Bread of Life!" on thee we feed. PDF - Midi
2. Thirsting for the springs of waters
that, by Love's eternal law,
from the stricken Rock are flowing,
"Well of Life!" from thee we draw.
3. Driven out from happy Eden,
far from home and shelter strayed,
tossed with tempest, faint from sunshine,
"Tree of Life!" we seek thy shade.
4. In the land of cloud and shadow,
where no human eye can see,
Light of those who sit in darkness,
"Light of Life!" we walk in thee.
5. Strangers upon earth, and pilgrims,
wearied with the world, and weak,
by life's many ways bewildered,
"Path of Life!" for thee we seek.
6. Vexed with passion's hateful bondage
longing, struggling to be free,
where thy loving banner leads us,
"Prince of Life!" we follow thee.
7. Sick of sense's vain deceivings
crumbling round us into dust,
strong alone in faith's believings,
"Word of Life!" in thee we trust.
8. Thou the "Grace of Life" supplying,
thou the "Crown of Life" wilt give,
dead to sin, and daily dying,
"Life of Life!" in thee we live.
John S. B. Monsell, Hymns of Love and Praise, 1877, 97-98.
Hymn title from the index, page 172.