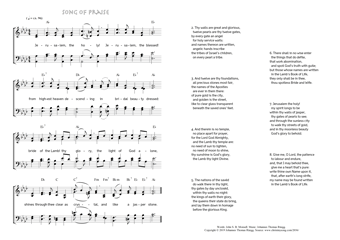 Christ My Song - 2036
Jerusalem, the holy! - The Lamb's Bride
(John S. B. Monsell/Johannes Thomas Rüegg)
The Lamb's Bride.
"And I John saw the Holy City, the new Jerusalem,
coming down from God out of heaven,
prepared as a bride adorned for her husband."
(Revelation 21,2)
1. Jerusalem, the holy!
Jerusalem, the blessed!
from highest heaven descending
in bridal beauty dressed:
bride of the Lamb! thy glory,
the light of God alone,
shines through thee clear as crystal,
and like a jasper stone. PDF - Midi
2. Thy walls are great and glorious,
twelve pearls are thy twelve gates,
by every gate an angel
for holy service waits:
and names thereon are written,
angelic hands inscribe
the tribes of Israel's children,
on every pearl a tribe.
3. And twelve are thy foundations,
all precious stones most fair,
the names of the Apostles
are ever in them there:
of pure gold is the city,
and golden is the street,
like to clear glass transparent
beneath the saved ones' feet.
4. And therein is no temple,
no place apart for prayer,
for the Lord God Almighty,
and the Lamb thy temple are:
no need of sun to lighten,
no need of moon to shine,
thy sunshine is God's glory,
the Lamb thy light Divine.
5. The nations of the savèd
do walk there in thy light,
thy gates by day unclosèd,
within thy walls no night:
the kings of earth their glory,
the queens their state do bring,
and lay them down in homage
before the glorious King.
6. There shall in no wise enter
the things that do defile,
that work abomination,
and spoil God's truth with guile;
but those whose names are written
in the Lamb's Book of Life,
they only shall be in thee,
thou spotless Bride and Wife.
7. Jerusalem the holy!
my spirit longs to be
within thy walls of jasper,
thy gates of pearls to see;
and through the sunless city
to walk thy streets of gold,
and in thy moonless beauty
God's glory to behold.
8. Give me, O Lord, the patience
to labour and endure,
and, that I may behold thee,
give me a heart that's pure:
write thine own Name upon it,
that, after earth's long strife,
my name may be found written
in the Lamb's Book of Life.
John S. B. Monsell, Hymns of Love and Praise, 1877, 83-85.
Hymn title from the index, page 172.