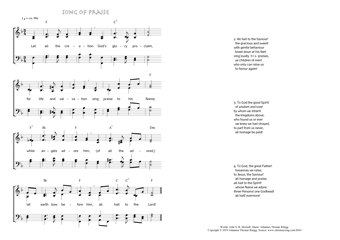 Christ My Song - 2041
Let all the creation - Song of Praise
(John S. B. Monsell/Johannes Thomas Rüegg)
Song of Praise.
"Great is the mystery of godliness." (1 Timothy 3,16)
1. Let all the creation
God's glory proclaim,
for life and salvation
sing praise to his Name;
while angels adore him,
(of all the adored,)
let earth bow before him,
all hail to the Lord! PDF - Midi
2. All hail to the Saviour!
the gracious and sweet!
with gentle behaviour
kneel down at his feet:
sing loudly his praises,
ye children of men!
who only can raise us
to favour again!
3. To God the good Spirit
of wisdom and love!
by whom we inherit
the kingdoms above;
who found us or ever
we knew we had strayed,
to part from us never,
all homage be paid!
4. To God, the great Father!
hosannas we raise;
to Jesus, the Saviour!
all homage and praise;
all hail to the Spirit!
whose Name we adore;
three Persons! one Godhead!
all hail! evermore!
John S. B. Monsell, Hymns of Love and Praise, 1877, 75-76.
Hymn title from the index, page 172.