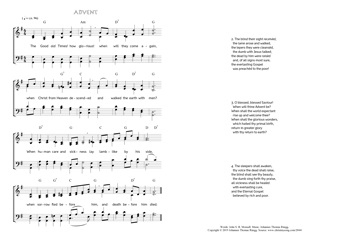 Christ My Song - 2044
The Good old Times! how glorious! - Advent
(John S. B. Monsell/Johannes Thomas Rüegg)
Advent.
"Awake, awake, put on strength, O arm of the Lord!
awake, as in ancient days, in the generations of old."
(Isaiah 51,91)
1. The Good old Times! how glorious!
when will they come again,
when Christ from Heaven descended
and walked the earth with men?
When human care and sickness
lay lamb-like by his side,
when sorrow fled before him,
and death before him died. PDF - Midi
2. The blind their sight receivèd,
the lame arose and walked,
the lepers they were cleansèd,
the dumb with Jesus talked;
the dead by him were raisèd
and, of all signs most sure,
the everlasting Gospel
was preachèd to the poor!
3. O blessed, blessed Saviour!
When will thine Advent be?
When shall the world expectant
rise up and welcome thee?
When shall the glorious wonders,
which hailed thy primal birth,
return in greater glory
with thy return to earth?
4. The sleepers shall awaken,
thy voice the dead shall raise,
the blind shall see thy beauty,
the dumb sing forth thy praise,
all sickness shall be healèd
with everlasting cure,
and the Eternal Gospel
believed by rich and poor.
John S. B. Monsell, Hymns of Love and Praise, 1877, 9-10.
Hymn title from the index, page 173.