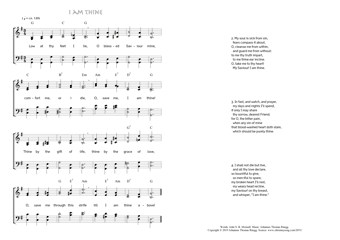 Christ My Song - 2053
Low at thy feet I lie - I am thine
(John S. B. Monsell/Johannes Thomas Rüegg)
I am thine.
"I am thine, O save me." (Psalm 119,94)
1. Low at thy feet I lie,
O blessed Saviour mine,
comfort me, or i die,
O, save me, I am thine!
Thine by the gift of life,
thine by the grace of love,
O, save me through this strife
till I am thine above! PDF - Midi
2. My soul is sick from sin,
fears compass it about,
O, cleanse me from within,
and guard me from without:
to me thy truth impart,
to me thine ear incline.
O, take me to thy heart!
My Saviour! I am thine.
3. In fast, and watch, and prayer,
my days and nights I'll spend,
if only I may share
thy sorrow, dearest Friend;
for O, the bitter pain,
when any sin of mine
that blood-washed heart doth stain,
which should be purely thine.
4. I shall not die but live,
and all thy love declare,
so bountiful to give,
so merciful to spare;
my broken heart I'll rest,
my weary head recline,
my Saviour! on thy breast,
and whisper, "I am thine."
John S. B. Monsell, Hymns of Love and Praise, 1877, 40-41.
Hymn title from the index, page 172.