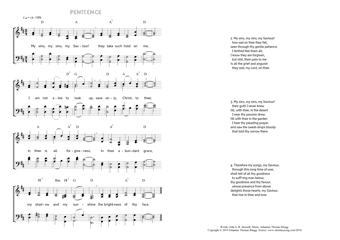 Christ My Song - 2054
My sins, my sins, my Saviour! - Penitence
(John S. B. Monsell/Johannes Thomas Rüegg)
Penitence.
"My sins have taken such hold upon me
that I am not able to look up:
yea, the are more in number than the hairs of my head,
and my heart failed me." (Psalm 40,15)
1. My sins, my sins, my Saviour!
they take such hold on me,
I am not able to look up,
save only, Christ, to thee;
in thee is all forgiveness,
in thee abundant grace,
my shadow and my sunshine
the brightness of thy face. PDF - Midi
2. My sins, my sins, my Saviour!
how sad on thee they fall,
seen through thy gentle patience,
I tenfold feel them all;
I know they are forgiven,
but still, their pain to me
is all the grief and anguish
they laid, my Lord, on thee.
3. My sins, my sins, my Saviour!
their guilt I never knew
till, with thee, in the desert
I near thy passion drew;
till with thee in the garden
I hear thy pleading prayer,
and saw the sweat-drops bloody
that told thy sorrow there.
4. Therefore my songs, my Saviour,
through this long time of woe,
shall tell of all thy goodness
to suff'ring man below;
thy goodness and thy favour,
whose presence from above
delights those hearts, my Saviour,
that live in thee and love.
John S. B. Monsell, Hymns of Love and Praise, 1877, 33-34.
Hymn title from the index, page 173.