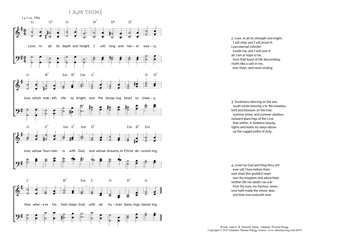 Christ My Song - 2055
Love, in all its depth and height - Song of Love
(John S. B. Monsell/Johannes Thomas Rüegg)
Song of Love.
"Many waters cannot quench love,
neither can floods drown it;
if a man would give all the substance of his house for love,
it would utterly be contemned." (Canticle of Canticles 8,7)
1. Love, in all its depth and height,
I will sing and never weary,
love, which maketh life so bright,
and the drooping heart so cheery;
love, whose fountain is with God,
and whose streams, in Christ descending,
flow where'er his footsteps trod,
with all human blessings blending. PDF - Midi
2. Love, in all its strength and might,
I will sing, and I will prove it;
Love eternal! infinite!
loveth me, and I will love it:
all I am or hope to be,
from that fount of life descending,
riseth like a well in me,
ever fresh, and never ending.
3. Sunbeams dancing on the sea,
south winds blowing o'er the meadow,
bird and blossom on the tree,
summer shine, and summer shadow;
outward glancings of the Love
that within, in fadeless beauty,
lights and leads my steps above
up the rugged paths of duty.
4. Love! my God and King thou art!
ever will I bow before thee:
ever shall this grateful heart
own thy kingdom and adore thee:
neither life nor death can e'er
from thy love, my Saviour, sever;
love hath made the sinner dear,
and that love endureth ever.
John S. B. Monsell, Hymns of Love and Praise, 1877, 78-79.
Hymn title from the index, page 172.