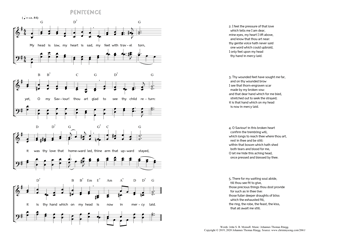 Christ My Song - 2061
My head is low, my heart is sad - Penitence
(John S. B. Monsell/Johannes Thomas Rüegg)
Penitence.
"This my son was dead, and is alive again;
he was lost, and is found." (Luke 15,24)
1. My head is low, my heart is sad,
my feet with travel torn,
yet, O my Saviour! thou art glad
to see thy child return:
it was thy love that homeward led,
thine arm that upward stayed,
it is thy hand which on my head
is now in mercy laid. PDF - Midi
2. I feel the pressure of that love
which tells me I am dear,
mine eyes, my heart I lift above,
and know that thou art near:
thy gentle voice hath never said
one word which could upbraid,
I only feel upon my head
thy hand in mercy laid.
3. Thy wounded feet have sought me far,
and on thy wounded brow
I see that thorn-engraven scar
made by my broken vow:
and that dear hand which for me bled,
stretched out to seek the strayed;
it is that hand which on my head
is now in mercy laid.
4. O Saviour! in this broken heart
confirm the trembling will,
which longs to reach thee where thou art,
rest in thee and be still:
within that bosom which hath shed
both tears and blood for me,
O let me hide this aching head,
once pressed and blessed by thee.
5. There for my waiting soul abide,
till thou see fit to give,
those precious things thou dost provide
for such as in thee live:
those fuller deeper draughts of bliss
which the exhausted fill,
the ring, the robe, the feast, the kiss,
that all await me still.
John S. B. Monsell, Hymns of Love and Praise, 1877, 125-126.
Hymn title from the index, page 172.