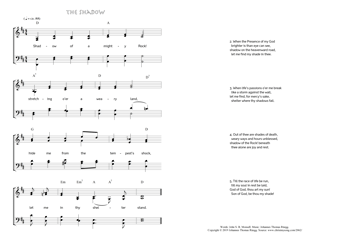 Christ My Song - 2062
Shadow of a mighty Rock! - The Shadow
(John S. B. Monsell/Johannes Thomas Rüegg)
The Shadow.
"The shadow of a great Rock in a weary land." (Isaiah 32,2)
1. Shadow of a mighty Rock!
stretching o'er a weary land,
hide me from the tempest's shock,
let me in thy shelter stand. PDF - Midi
2. When the Presence of my God
brighter is than eye can see,
shadow on the heavenward road,
let me find my shade in thee.
3. When life's passions o'er me break
like a storm against the wall,
let me find, for mercy's sake,
shelter where thy shadows fall.
4. Out of thee are shades of death,
weary ways and hours unblessed,
shadow of the Rock! beneath
thee alone are joy and rest.
5. Till the race of life be run,
till my soul in rest be laid,
God of God, thou art my sun!
Son of God, be thou my shade!
John S. B. Monsell, Hymns of Love and Praise, 1877, 63-64.
Hymn title from the index, page 173.