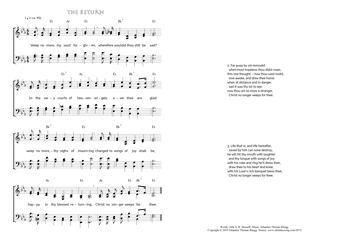 Christ My Song - 2071
Weep no more, my soul! forgiven - The Return
(John S. B. Monsell/Johannes Thomas Rüegg)
The Return.
"Thou shalt weep no more." (Isaiah 30,19)
1. Weep no more, my soul! forgiven,
wherefore wouldst thou still be sad?
In the very courts of heaven
angels over thee are glad:
weep no more, – thy sighs of mourning
changed to songs of joy shall be,
happy in thy blessed returning,
Christ no longer weeps for thee. PDF - Midi
2. Far away by sin removèd
when most hopeless thou didst roam,
this one thought, – how thou wast lovèd,
love awoke, and drew thee home:
when at distance and in danger,
sad it was thy lot to see,
now thou art no more a stranger,
Christ no longer weeps for thee.
3. Life that is, and life hereafter,
saved by him can none destroy,
he will fill thy mouth with laughter
and thy tongue with songs of joy:
with his robe and ring he'll dress thee,
draw thee to his heart and knee;
with his Love's rich banquet bless thee,
Christ no longer weeps for thee.
John S. B. Monsell, Hymns of Love and Praise, 1877, 86.
Hymn title from the index, page 174.