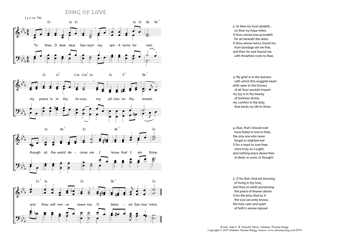 Christ My Song - 2078
To thee, O dear dear Saviour! - Song of Love
(John S. B. Monsell/Johannes Thomas Rüegg)
Song of Love.
"My spirit hath rejoiced in God my Saviour." (Luke 1,47)
1. To thee, O dear dear Saviour!
my spirit turns for rest,
my peace is in thy favour,
my pillow on thy breast:
though all the world deceive me
I know that I am thine,
and thou wilt never leave me,
O blessed Saviour mine. PDF - Midi
2. In thee my trust abideth,
on thee my hope relies,
O thou whose love provideth
for all beneath the skies:
O thou whose mercy found me,
from bondage set me free,
and then for ever bound me,
with threefold cords to thee.
3. My grief is in the dulness
with which this sluggish heart
doth open to the fulness
of all thou wouldst impart:
my joy is in thy beauty
of holiness divine,
my comfort in the duty
that binds my life to thine.
4. Alas, that I should ever
have failed in love to thee,
the only one who never
forgat or slighted me!
O for a heart to love thee
more truly as I ought,
and nothing place above thee
in deed, or word, or thought.
5. O for that choicest blessing
of living in thy love,
and thus on earth possessing
the peace of heaven above:
O for the bliss that by it
the soul securely knows,
the holy calm and quiet
of faith's serene repose!
John S. B. Monsell, Hymns of Love and Praise, 1877, 105-106.
Hymn title from the index, page 174.