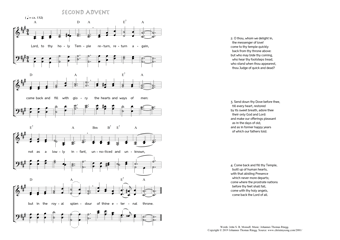 Christ My Song - 2081
Lord, to thy holy Temple - Second Advent
(John S. B. Monsell/Johannes Thomas Rüegg)
Second Advent.
"Yet once, it is a little while, and
I will shake the heavens, and the earth,
and the sea, and the dry land;
and I will shake all nations,
and the desire of all nations shall come:
and I will fill this house with glory,
saith the Lord of Hosts." (Haggai 2,6-7)
1. Lord, to thy holy Temple
return, return again,
come back and fill with glory
the hearts and ways of men:
not as a lowly infant,
unnoticed and unknown,
but in the royal splendour
of thine eternal throne. PDF - Midi
2. O thou, whom we delight in,
the messenger of love!
come to thy temple quickly
back from thy throne above:
but who may bide thy coming,
who hear thy footsteps tread,
who stand when thou appearest,
thou Judge of quick and dead?
3. Send down thy Dove before thee,
till every heart, restored
by its sweet breath, adore thee
their only God and Lord:
and make our offerings pleasant
as in the days of old,
and as in former happy years
of which our fathers told.
4. Come back and fill thy Temple,
built up of human hearts,
with that abiding Presence
which never more departs;
come where the prostrate nations
before thy feet shall fall,
come with thy holy angels,
come back the Lord of all.
John S. B. Monsell, Hymns of Love and Praise, 1877, 111-112.
Hymn title from the index, page 172.