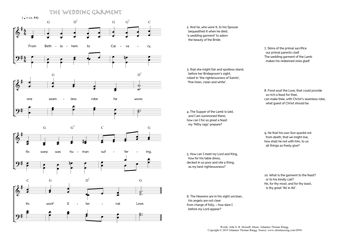 Christ My Song - 2094
From Bethlehem to Calvary - The Wedding Garment
(John S. B. Monsell/Johannes Thomas Rüegg)
The Wedding Garment.
Twentieth Sunday after Trinity.
"Friend, how camest thou in hither
not having a wedding garment?"
(Matthew 22,12)
1. From Bethlehem to Calvary,
one seamless robe he wove;
its warp was human suffering,
its woof Eternal Love. PDF - Midi
2. And he, who wore it, to his Spouse
bequeathed it when he died;
'a wedding garment' to adorn
the beauty of the Bride:
3. that she might fair and spotless stand,
before her Bridegroom's sight,
robed in 'the righteousness of Saints',
'fine linen, clean and white'.
4. The Supper of the Lamb is laid,
and I am summoned there;
how can I for so great a feast
my 'filthy rags' prepare?
5. How can I meet my Lord and King,
how for his table dress,
decked in so poor and vile a thing,
as my best righteousness?
6. The Heavens are in his sight unclean,
his angels are not clear
from charge of folly, – how dare I
before my Lord appear?
7. Skins of the primal sacrifice
our primal parents clad!
The wedding garment of the Lamb
makes his redeemed ones glad!
8. Fond soul! the Love, that could provide
so rich a feast for thee,
can make thee, with Christ's seamless robe,
what guest of Christ should be.
9. He that his own Son sparèd not
from death, that we might live,
how shall he not with him, to us
all things as freely give?
10. What is the garment to the feast?
or to his kindly call?
He, for thy most, and for thy least,
is thy great 'All in All'.
John S. B. Monsell, 'Spiritual Songs', 1864, 159-160.