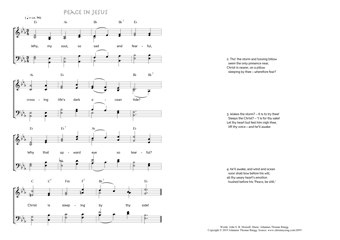 Christ My Song - 2095
Why, my soul, so sad and fearful - Peace in Jesus
(John S. B. Monsell/Johannes Thomas Rüegg)
Peace in Jesus.
Fourth Sunday after Epiphany.
"And he saith unto them, Why are ye fearful,
O ye of little faith?
Then he arose, and rebuked the winds and the sea;
and there was a great calm." (Matthew 8,26)
1. Why, my soul, so sad and fearful,
crossing life's dark ocean tide?
Why that upward eye so tearful?
Christ is sleeping by thy side! PDF - Midi
2. Tho' the storm and tossing billow
seem the only presence near,
Christ is nearer, on a pillow
sleeping by thee – wherefore fear?
3. Wakes the storm? – it is to try thee!
Sleeps the Christ? – 't is for thy sake!
Let thy heart but feel him nigh thee,
lift thy voice – and he'll awake:
4. he'll awake, and wind and ocean
soon shall bow before his will,
all thy weary heart's emotion
hushed before his 'Peace, be still.'
John S. B. Monsell, 'Spiritual Songs', 1864, 30.