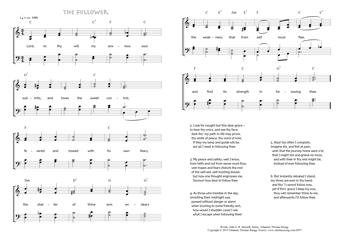 Christ My Song - 2097
Lord, to thy will my anxious soul - The Follower
(John S. B. Monsell/Johannes Thomas Rüegg)
The Follower.
Fourth Sunday after Easter.
"Follow me." (John 21,19)
1. Lord, to thy will my anxious soul
submits, and loves the sweet control;
fevered and tossed with its own fears,
the shelter of thine arm endears
the weakness, that from self must flee,
and find its strength in following thee. PDF - Midi
2. I ask for nought but this dear grace –
to hear thy voice, and see thy face;
dark tho' my path in life may prove,
thy smile of peace, thy voice of love,
if they my lamp and guide will be,
are all I need in following thee.
3. My peace and safety, well I know,
from faith and not from sense must flow;
vain hopes and fears disturb the rest
of the self-led, self-trusting breast;
but now one thought engrosses me,
Saviour! how best to follow thee.
4. As those who tremble in the day,
revisiting their midnight way
passed without danger or alarm
when trusting to some friendly arm,
how would I shudder could I see
what I escape when following thee!
5. Alas! too often I complain,
imagine ills, and fret at pain,
wish that the journey home were o'er,
that I might toil and grieve no more,
and with thee in thy rest might be,
instead of ever following thee.
6. But instantly rebuked I stand,
my times are ever in thy hand;
and tho' I cannot follow now,
yet if thro' grace I keep my vow,
thou wilt remember thine to me,
and afterwards I'll follow thee.
John S. B. Monsell, 'Spiritual Songs', 1864, 90-91.