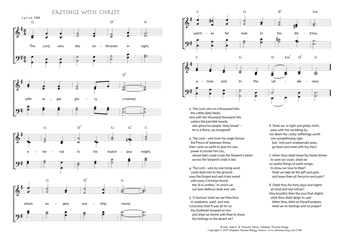 Christ My Song - 2100
The Lord, who sits enthroned in light - Fastings with Christ
(John S. B. Monsell/Johannes Thomas Rüegg)
Fastings with Christ.
First Sunday in Lent.
"And when he had fasted forty days and forty nights,
he was afterward an-hungered." (Matthew 4,2)
1. The Lord, who sits enthroned in light,
with regal glory crowned,
eternal in his matchless might,
whom angels worship round,
watches for man in his distress,
alone, and in the wilderness. PDF - Midi
2. The Lord, who on a thousand hills
the cattle daily feeds,
who with ten thousand thousand rills
waters the parchèd meads,
who gives his people 'daily bread' –
he is a-thirst, an-hungered!
3. The Lord – who from his angel throne
the Prince of darkness threw,
then came on earth to give his own
power to bruise him too,
whose heel could crush the Serpent's head –
across the Serpent's trail is led.
4. The Lord – who by one living word
could dash him to the ground –
uses the forged and well-tried sword
with every Christian found:
the 'It is written,' in which we
our best defence shall ever see.
5. O Saviour! shall we see thee thus
in weakness, want, and woe,
conscious that it was all for us
thy Godhead stooped so low;
and shall we shrink with thee to share
thy fastings in the desert air?
6. Shall we, in light and giddy mirth,
pass with the worldling by,
nor deem thy costly sufferings worth
one sympathising sigh;
but, 'mid such undeservèd woes,
go feast and revel with thy foes?
7. When thou didst leave thy home divine
to save our souls, shall we
no lawful things of earth resign,
to show our love to thee?
Shall we take all the gift and gain,
and leave thee all the price and pain?
8. Didst thou for forty days and nights
all food and rest refuse?
How boastful then the soul that slights
what thou didst deign to use!
When thou didst so thyself prepare,
need we no fastings and no prayer?
John S. B. Monsell, 'Spiritual Songs', 1864, 44-45.