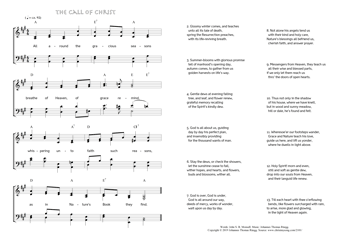 Christ My Song - 2101
All around the gracious seasons - The Dew of the Spirit
(John S. B. Monsell/Johannes Thomas Rüegg)
The Dew of the Spirit.
Tuesday in Whitsun-week.
"As the dew of Hermon, and as the dew that
descended upon the mountains of Zion;
for there the Lord commanded the blessing,
even life for evermore." (Psalm 133,3)
1. All around the gracious seasons
breathe of Heaven, of grace remind,
whispering unto faith such reasons,
as in Nature's Book they find. PDF - Midi
2. Gloomy winter comes, and teaches
unto all its tale of death,
spring the Resurrection preaches,
with its life-reviving breath.
3. Summer-blooms with glorious promise
tell of manhood's opening day,
autumn comes, to gather from us
golden harvests on life's way.
4. Gentle dews at evening falling
tree, and leaf, and flower renew,
grateful memory recalling
of the Spirit's kindly dew.
5. God is all about us, guiding
day by day his perfect plan,
and insensibly providing
for the thousand wants of man.
6. Stay the dews, or check the showers,
let the sunshine cease to fall,
wither hopes, and hearts, and flowers,
buds and blossoms, wither all.
7. God is over, God is under,
God is all around our way,
deeds of mercy, works of wonder,
wait upon us day by day.
8. Not alone his angels tend us
with their kind and holy care,
Nature's blessings all befriend us,
cherish faith, and answer prayer.
9. Messengers from Heaven, they teach us
all their wise and blessed parts,
if we only let them reach us
thro' the doors of open hearts.
10. Thus not only in the shadow
of his house, where we have knelt,
but in wood and sunny meadow,
hill or dale, he's found and felt.
11. Wheresoe'er our footsteps wander,
Grace and Nature teach his love,
guide us here, and lift us yonder,
where he dwells in light above.
12. Holy Spirit! morn and even,
still and soft as gentle dew,
drop into our souls from Heaven,
and their languid life renew.
13. Till each heart with thee o'erflowing
bends, like flowers surcharged with rain,
to arise, more glad and glowing,
in the light of Heaven again.
John S. B. Monsell, 'Spiritual Songs', 1864, 106-108.