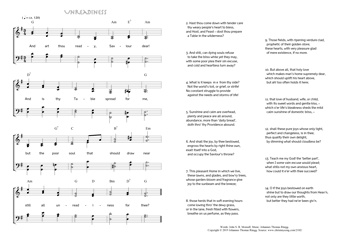 Christ My Song - 2102
And art thou ready, Saviour dear! - Unreadiness
(John S. B. Monsell/Johannes Thomas Rüegg)
Unreadiness.
Second Sunday after Trinity.
"Come, for all things are now ready!
And they all with one consent began to make excuse."
(Luke 14,17-18)
1. And art thou ready, Saviour dear!
And is thy Table spread for me,
but the poor soul that should draw near
still all unreadiness for thee? PDF - Midi
2. Hast thou come down with tender care
thy weary people's heart to bless,
and Host, and Feast – dost thou prepare
a Table in the wilderness?
3. And still, can dying souls refuse
to take the bliss while yet they may,
with some poor plea their sin excuse,
and cold and heartless turn away?
4. What is it keeps me from thy side?
Not the world's toil, or grief, or strife!
No constant struggle to provide
against the needs and storms of life!
5. Sunshine and calm are overhead,
plenty and peace are all around,
abundance, more than 'daily bread',
doth thro' thy Providence abound.
6. And shall the joy, by thee bestowed,
engross the hearts by right thine own,
exalt itself into a God,
and occupy the Saviour's throne?
7. This pleasant Home in which we live,
these lawns, and glades, and bow'ry trees,
whose garden-bloom and fragrance give
joy to the sunbeam and the breeze;
8. those herds that in soft evening hours
come lowing thro' the dewy grass,
or in the lane, fresh filled with flowers,
breathe on us perfume, as they pass.
9. Those fields, with ripening verdure clad,
prophetic of their golden store;
these hearts, with very pleasure glad
of mere existence, if no more.
10. But above all, that holy love
which makes man's home supremely dear,
which should uplift his heart above,
but ah! too often holds it here;
11. that love of husband, wife, or child,
with its sweet words and gentle kiss, –
which o'er life's bleakness sheds the mild
calm sunshine of domestic bliss, –
12. shall these pure joys whose only light,
perfect and changeless, is in thee;
thus qualify their own delight,
by dimming what should cloudless be?
13. Teach me my God! the 'better part',
when I some vain excuse would plead;
what stills not my own anxious heart,
how could it e'er with thee succeed?
14. O if the joys bestowed on earth
shine but to draw our thoughts from Heav'n,
not only are they little worth,
but better they had ne'er been giv'n.
John S. B. Monsell, 'Spiritual Songs', 1864, 115-117.