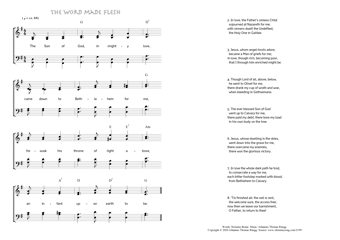 Christ My Song - 2199
The Son of God, in mighty love - The Word made Flesh
(Horatius Bonar/Johannes Thomas Rüegg)
The Word made Flesh.
1. The Son of God, in mighty love,
came down to Bethlehem for me,
forsook his throne of light above,
an infant upon earth to be. PDF - Midi
2. In love, the Father's sinless Child
sojourned at Nazareth for me;
with sinners dwelt the Undefiled,
the Holy One in Galilee.
3. Jesus, whom angel-hosts adore,
became a Man of griefs for me;
in love, though rich, becoming poor,
that I through him enriched might be.
4. Though Lord of all, above, below,
he went to Olivet for me,
there drank my cup of wrath and woe,
when bleeding in Gethsemane.
5. The ever blessed Son of God
went up to Calvary for me,
there paid my debt, there bore my load
in his own body on the tree.
6. Jesus, whose dwelling is the skies,
went down into the grave for me,
there overcame my enemies,
there won the glorious victory.
7. In love the whole dark path he trod,
to consecrate a way for me,
each bitter footstep marked with blood,
from Bethlehem to Calvary.
8. 'Tis finished all: the veil is rent,
the welcome sure, the access free;
now then we leave our banishment,
O Father, to return to thee!
Horatius Bonar, Hymns of Faith and Hope I, 1878, 105-106.