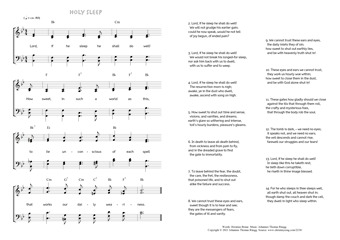 Christ My Song - 2238
Lord, if he sleep he shall do well! - Holy Sleep
(Horatius Bonar/Johannes Thomas Rüegg)
Holy Sleep.
John 11,12.
1. Lord, if he sleep he shall do well!
How sweet, in such a world as this,
to lie unconscious of each spell
that works our daily weariness. PDF - Midi
2. Lord, if he sleep he shall do well!
We will not grudge his earlier gain;
could he now speak, would he not tell
of joy begun, of ended pain?
3. Lord, if he sleep he shall do well!
We would not break his longed-for sleep,
nor ask him back with us to dwell,
with us to suffer and to weep.
4. Lord, if he sleep he shall do well!
The resurrection morn is nigh;
awake, ye in the dust who dwell,
awake, ascend with song on high.
5. How sweet to shut out time and sense,
visions, and vanities, and dreams;
earth's glare so withering and intense,
toil's hourly burdens, pleasure's gleams.
6. In death to leave all death behind,
from sickness and from pain to fly,
and in the dreaded grave to find
the gate to immortality.
7. To leave behind the fear, the doubt,
the care, the fret, the restlessness,
that poisoned life, and to shut out
alike the failure and success.
8. We cannot trust these eyes and ears,
sweet though it is to hear and see;
they are the messengers of fears,
the gates of ill and vanity.
9. We cannot trust these ears and eyes,
the daily inlets they of sin;
how sweet to shut out earthly lies,
and be with heavenly truth shut in!
10. These eyes and ears we cannot trust,
they work us hourly woe within;
how sweet to close them in the dust,
and be with God alone shut in!
11. These gates how gladly should we close
against the ills that through them roll,
the crafty and mysterious foes,
that through the body rob the soul.
12. The tomb is dark, – we need no eyes;
it speaks not, and we need no ears;
the veil descends and cannot rise;
farewell our struggles and our tears!
13. Lord, if he sleep he shall do well!
In sleep like this he taketh rest;
he lieth down corruptible,
he riseth in thine image blessed.
14. For he who sleeps in thee sleeps well,
all earth shut out, all heaven shut in;
though damp the couch and dark the cell,
they dwell in light who sleep within.
Horatius Bonar, Hymns of Faith and Hope III, 1878, 114-116.