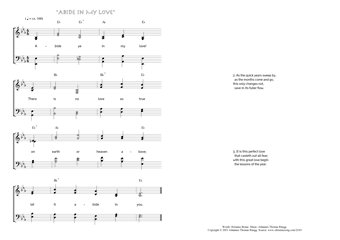 Christ My Song - 2243
Abide ye in my love! - "Abide in My Love"
(Horatius Bonar/Johannes Thomas Rüegg)
"Abide in My Love."
(A New Year's hymn.)
1. Abide ye in my love!
There is no love so true
on earth or heaven above;
let it abide in you. PDF - Midi
2. As the quick years sweep by,
as the months come and go,
this only changes not,
save in its fuller flow.
3. It is this perfect love
that casteth out al fear;
with this great love begin
the lessons of the year.
Horatius Bonar, "Until the Day break", 1890, 192.