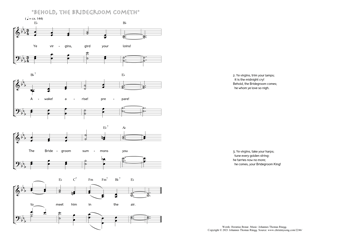 Christ My Song - 2246
Ye virgins, gird your loins! - "Behold, the Bridegroom Cometh"
(Horatius Bonar/Johannes Thomas Rüegg)
"Behold, the Bridegroom Cometh."
1. Ye virgins, gird your loins!
Awake! arise! prepare!
The Bridegroom summons you
to meet him in the air. PDF - Midi
2. Ye virgins, trim your lamps;
it is the midnight cry!
Behold, the Bridegroom comes;
he whom ye love so nigh.
3. Ye virgins, take your harps;
tune every golden string:
he tarries now no more;
he comes, your Bridegroom King!
Horatius Bonar, "Until the Day break", 1890, 80.