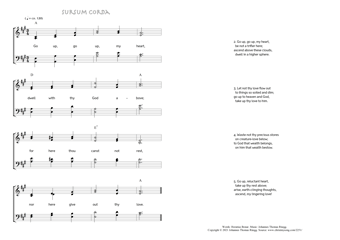 Christ My Song - 2251
Go up, go up, my heart - Sursum Corda
(Horatius Bonar/Johannes Thomas Rüegg)
Sursum Corda.
1. Go up, go up, my heart,
dwell with thy God above;
for here thou canst not rest,
nor here give out thy love. PDF - Midi
2. Go up, go up, my heart,
be not a trifler here;
ascend above these clouds,
dwell in a higher sphere.
3. Let not thy love flow out
to things so soiled and dim;
go up to heaven and God,
take up thy love to him.
4. Waste not thy precious stores
on creature-love below;
to God that wealth belongs,
on him that wealth bestow.
5. Go up, reluctant heart,
take up thy rest above;
arise, earth-clinging thoughts,
ascend, my lingering love!
Horatius Bonar, Hymns of Faith and Hope I, 1878, 126.
(Sursum corda: Up, hearts!)