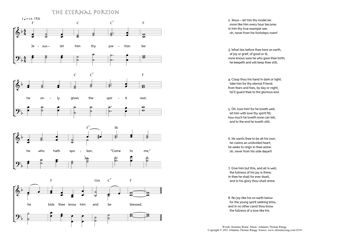 Christ My Song - 2254
Jesus – let him thy portion be - The Eternal Portion
(Horatius Bonar/Johannes Thomas Rüegg)
The Eternal Portion.
To E. F. B.
1. Jesus – let him thy portion be:
he only gives the spirit rest;
he who hath spoken, "Come to me,"
he bids thee know him and be blessed. PDF - Midi
2. Jesus – let him thy model be:
more like him every hour become;
in him thy true example see;
oh, never from his footsteps roam!
3. What lies before thee here on earth,
of joy or grief, of good or ill,
none knows save he who gave thee birth;
he keepeth and will keep thee still.
4. Clasp thou his hand in dark or light;
take him for thy eternal Friend;
from fears and foes, by day or night,
he'll guard thee to the glorious end.
5. Oh, love him! for he loveth well;
let him with love thy spirit fill;
how much he loveth none can tell,
and to the end he loveth still.
6. He wants thee to be all his own;
he claims an undivided heart;
he seeks to reign in thee alone:
oh, never from his side depart!
7. Give him but this, and all is well;
the fullness of his joy is thine;
in thee he shall for ever dwell,
and in his glory thou shalt shine.
8. No joy like his on earth below
for the young spirit seeking bliss,
and in no other canst thou know
the fullness of a love like his.
January 17th, 1880.
Horatius Bonar, "Until the Day break", 1890, 21-23.