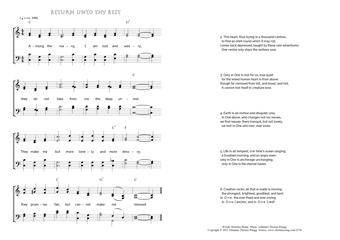 Christ My Song - 2276
Among the many, I am lost and weary - Return unto thy Rest
(Horatius Bonar/Johannes Thomas Rüegg)
Return unto thy Rest.
In uno quies.
1. Among the many, I am lost and weary;
they do not take from me the deep unrest.
They make me but more lonely and more dreary;
they promise fair, but cannot make me blessed. PDF - Midi
2. This heart, thus trying in a thousand centres,
to find an orbit round which it may roll,
comes back depressed, taught by these vain adventures:
One centre only stays the restless soul.
3. Only in One is rest for us; true quiet
for the vexed human heart is from above:
though far removed from toil, and brawl, and riot,
it cannot rest itself in creature-love.
4. Earth is all motion and disquiet; only
in One above, who changes not nor moves,
we find repose: there tranquil, but not lonely,
we rest in One who ever, ever loves.
5. Life is all tempest, o'er time's ocean ranging;
a troubled morning, and an angry even:
only in One is anchorage unchanging,
only in One is the eternal haven.
6. Creation rocks; all that is made is moving;
the strongest, brightest, goodliest, and best:
in One, the ever-fixed and ever-loving,
in One I anchor, and in One I rest!
Horatius Bonar, The Song of the New Creation, and other pieces, 1872, 33-34.