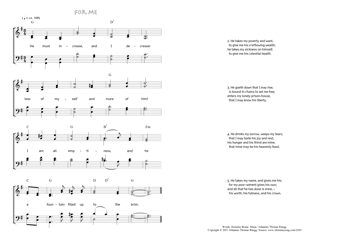 Christ My Song - 2281
He must increase, and I decrease - For me
(Horatius Bonar/Johannes Thomas Rüegg)
For me.
1. He must increase, and I decrease:
less of myself and more of him!
I am all emptiness, and he
a fountain filled up to the brim. ; PDF - Midi
2. He takes my poverty and want,
to give me his o'erflowing wealth;
he takes my sickness on himself,
to give me his celestial health.
3. He goeth down that I may rise,
is bound in chains to set me free;
enters my lonely prison-house,
that I may know his liberty.
4. He drinks my sorrow, weeps my tears,
that I may taste his joy and rest;
his hunger and his thirst are mine,
that mine may be his heavenly feast.
5. He takes my name, and gives me his;
for my poor raiment gives his own;
and all that he has done is mine, –
his worth, his fullness, and his crown.
Horatius Bonar, The Song of the New Creation, and other pieces, 1872, 157.