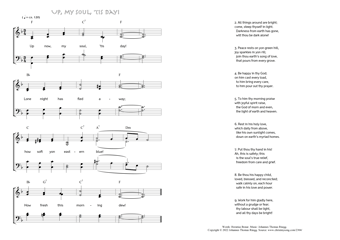 Christ My Song - 2304
Up now, my soul, 'tis day! - Up, my Soul, 'tis Day!
(Horatius Bonar/Johannes Thomas Rüegg)
Up, my Soul, 'tis Day!
1. Up now, my soul, 'tis day!
Lone night has fled away;
how soft yon eastern blue!
How fresh this morning dew! PDF - Midi
2. All things around are bright;
come, steep thyself in light.
Darkness from earth has gone,
wilt thou be dark alone!
3. Peace rests on yon green hill,
joy sparkles in yon rill;
join thou earth's song of love,
that pours from every grove.
4. Be happy in thy God;
on him cast every load,
to him bring every care,
to him pour out thy prayer.
5. To him thy morning praise
with joyful spirit raise,
the God of morn and even,
the light of earth and heaven.
6. Rest in his holy love,
which daily from above,
like his own sunlight comes,
down on earth's myriad homes.
7. Put thou thy hand in his!
Ah, this is safety; this
is the soul's true relief,
freedom from care and grief.
8. Be thou his happy child,
loved, blessed, and reconciled;
walk calmly on, each hour
safe in his love and power.
9. Work for him gladly here,
without a grudge or fear;
thy labour shall be light,
and all thy days be bright!
Horatius Bonar, Hymns of Faith and Hope II, 1872, 143-145.