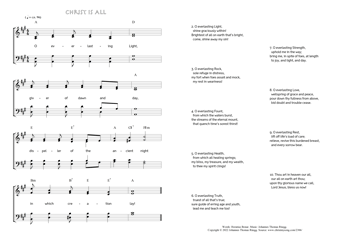 Christ My Song - 2306
O everlasting Light - Christ is All
(Horatius Bonar/Johannes Thomas Rüegg)
Christ is All.
1. O everlasting Light,
giver of dawn and day,
dispeller of the ancient night
in which creation lay! PDF - Midi
2. O everlasting Light,
shine graciously within!
Brightest of all on earth that's bright,
come, shine away my sin!
3. O everlasting Rock,
sole refuge in distress,
my fort when foes assail and mock,
my rest in weariness!
4. O everlasting Fount,
from which the waters burst,
the streams of the eternal mount,
that quench time's sorest thirst!
5. O everlasting Health,
from which all healing springs;
my bliss, my treasure, and my wealth,
to thee my spirit clings!
6. O everlasting Truth,
truest of all that's true;
sure guide of erring age and youth,
lead me and teach me too!
7. O everlasting Strength,
uphold me in the way;
bring me, in spite of foes, at length
to joy, and light, and day.
8. O everlasting Love,
wellspring of grace and peace,
pour down thy fullness from above,
bid doubt and trouble cease.
9. O everlasting Rest,
lift off life's load of care;
relieve, revive this burdened breast,
and every sorrow bear.
10. Thou art in heaven our all,
our all on earth art thou;
upon thy glorious name we call,
Lord Jesus, bless us now!
Horatius Bonar, Hymns of Faith and Hope II, 1872, 32-33.