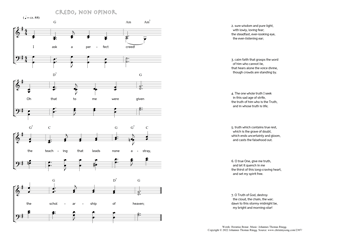 Christ My Song - 2307
I ask a perfect creed! - Credo, non opinor
(Horatius Bonar/Johannes Thomas Rüegg)
Credo, non opinor.
1. I ask a perfect creed!
Oh that to me were given
the teaching that leads none astray,
the scholarship of heaven;
2. sure wisdom and pure light,
with lowly, loving fear;
the steadfast, ever-looking eye,
the ever-listening ear;
3. calm faith that grasps the word
of him who cannot lie,
that hears alone the voice divine,
though crowds are standing by.
4. The one whole truth I seek
in this sad age of strife,
the truth of him who is the Truth,
and in whose truth is life;
5. truth which contains true rest,
which is the grave of doubt,
which ends uncertainty and gloom,
and casts the falsehood out.
6. O true One, give me truth,
and let it quench in me
the thirst of this long-craving heart,
and set my spirit free.
7. O Truth of God, destroy
the cloud, the chain, the war;
dawn to this stormy midnight be,
my bright and morning-star!
Horatius Bonar, Hymns of Faith and Hope II, 1872, 142-143.