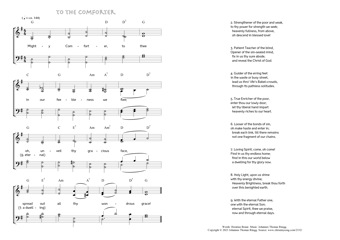 Christ My Song - 2332
Mighty Comforter, to thee - To the Comforter
(Horatius Bonar/Johannes Thomas Rüegg)
To the Comforter.
1. Mighty Comforter, to thee
in our feebleness we flee;
oh, unveil thy gracious face,
spread out all thy wondrous grace! PDF - Midi
2. Strengthener of the poor and weak,
to thy power for strength we seek;
heavenly fullness, from above,
oh descend in blessed love!
3. Patient Teacher of the blind,
Opener of the sin-sealed mind,
fix in us thy sure abode,
and reveal the Christ of God.
4. Guider of the erring feet
in the waste or busy street,
lead us thro' life's Babel-crowds,
through its pathless solitudes.
5. True Enricher of the poor,
enter thou our lowly door;
let thy liberal hand impart
heavenly riches to our heart.
6. Looser of the bonds of sin,
oh make haste and enter in;
break each link, till there remains
not one fragment of our chains.
7. Loving Spirit, come, oh come!
Find in us thy endless home;
find in this our world below
a dwelling for thy glory now.
8. Holy Light, upon us shine
with thy energy divine;
Heavenly Brightness, break thou forth
over this benighted earth.
9. With the eternal Father one,
one with the eternal Son;
Eternal Spirit, thee we praise,
now and through eternal days.
Horatius Bonar, Hymns of Faith and Hope II, 1872, 131-132.